The Scoring Assistant is intended as a tool to note the starting-time and register finishing-time in a Regatta sailing events. Some of the weather impacts are reduced by replacing the pen and paper with a tablet. The data integration improves the scoring in SailWave and the imported data in SailWave® minimize the risk of typing and reading errors.
SailWave® is used to manage the competing boats in the regatta and exporting the competitor list to MS Excel and then to a comma separated CSV file. Transfer the CSV file to the tablet and import the competitor list in the Scoring Assistant app. Enter the starting time for the 1st start in the race and the time between starts if there is more than one start in the race. Preparations are made ready for scoring the competing boats at the finish line as soon as all the starts in the race are done. Bow number or sail number are used to identify the competing boats as they approach the finish line and the finish time is saved by pressing the Finish. The scores are stored in a database and saved to a CSV file as soon as all the competing boats have finished or a disqualification is registered. The CSV file is now to be imported in SailWave®.
Import the results in SailWave® and make the last changes or updates before doing the race scoring. This could for example be protests. The length of the race course is not vital for class races but crucial in races with a mix of boat classes
Have fun. The app can be downloaded on Google Play.
The complete manual can be found here.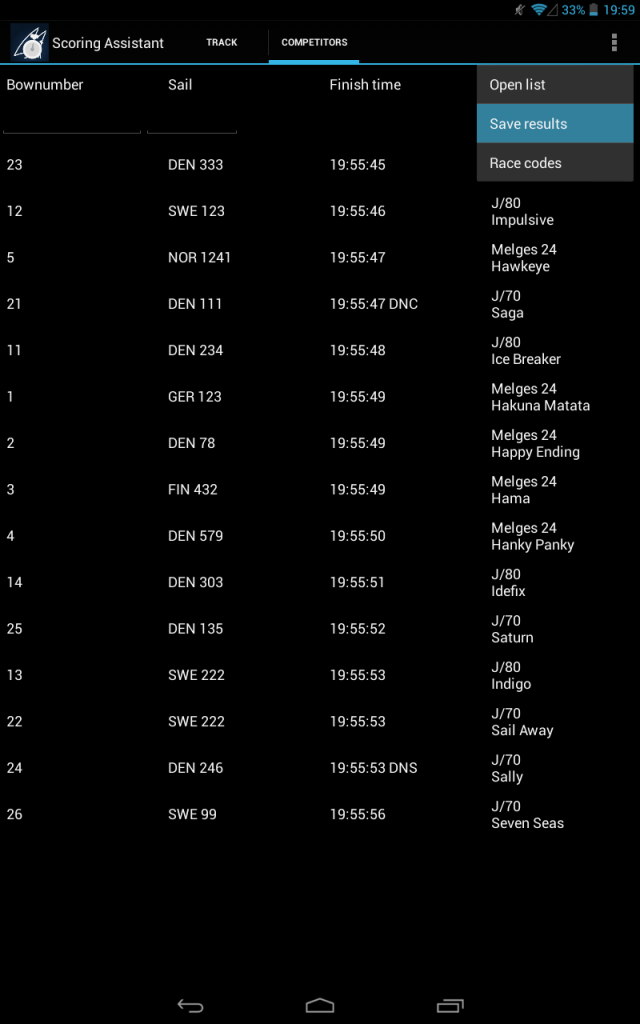 ---